Mix pleasure with Business at Basko
Basko, the retro-style Mediterranean restaurant that curates masterful dishes, from beautifully thought-out influences from Spain, France, The Basque, and Lebanon, is offering an impressive business lunch throughout the working week from 12 pm to 4 pm for only AED 135 per person.
Guests get a chance to mix pleasure, as they enjoy delicious flavors while discussing business as usual. The recently opened 60's-inspired restaurant has the city talking, what better way to experience the new Basko then to indulge in their three-course business lunch along the outdoor terrace under the stunning views of the Burj Khalifa. This specially crafted menu offers a choice of mouth-watering starters featuring the Crispy Tuna Toasts with crispy rice, Bluefin tuna and spicy sauce and the unique Basko Salad with mesclun mix, orange, grapefruit and pomegranate. Next in line, is the main course that is sure to take guests on an unforgettable culinary journey. The show-stoppers include the Swinging Linguini with Chanterelles and Parmeggianotea Grilled Sea Bass and the Rib Shortsbraised with roasted freekeh and onions, finishing with the restaurant's heavenly exquisite desserts such as St. Honore and the Lemon Pie.
Escape to Hutong for an Unforgettable Business Lunch
Guests are invited to take a break from their busy day with this fiery cuisine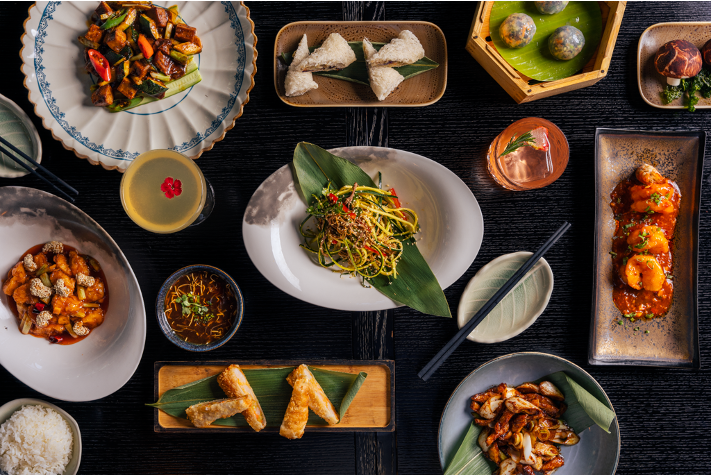 Authentic and award-winning restaurant Hutong, presents DIFC executives and gourmands with the perfect business lunch for the summer. Impeccably crafted by the Head Chef, the menu at Hutong consists of flavorful dishes and fresh ingredients, ideal for weekend dining.
From 12pm to 2:30pm, Monday to Friday, guests may opt for a soup, one starter and one main course for Dhs 125. Alternatively, opt for a soup and one main course for only Dhs 88. Diners can begin the lunch with a tempting Hot and Sour soup and may choose from a selection of mouth watering starters. The likes of the Wild Mushroom & Truffle Bao, Crystal Vegetable Dumpling and Sichuan Beef Salad are some of the show stopping starters on the menu. The main course includes the famous Wok-tossed Beef Tenderloin, spicy Mapo Tofu and Kung Po fresh King Oyster Mushroom.
In addition to the lovely meal, diners can complete the business lunch menu with a pairing of grapes starting from Dhs 35 onwards.
Lunch Affair at LDC Kitchen + Coffee
The award-winning cafe offers busy professional great value for money with its Lunch Affair. For Dhs78, LDC Kitchen + Coffee's business lunch offer includes a soup or side salad, a main (with a variety of dishes to choose from, as well as a delicious cup of coffee. Healthy options include LDC's Red Curry (made with their homemade aromatic curry paste and coconut milk, served with sauteed vegetables, bamboo shoots and steamed Jasmin rice) and Roast Eggplant Parmigiana (roast eggplant steak, parmigiana sauce, smoked mozzarella crispy almond and pine nuts, panko crumbs, pesto, balsamic reduction and feta cheese – can be made vegan too!)
Comfort classics such as burgers, pizza and pasta are up for grabs too. Lunchgoers can choose from LDC Burger, Fun Guy (Mushroom Pizza), Gnocchi Arrabbiata, Mushroom Tagliatelle or Rollin' in the Deep, a combo of fresh and fried spring rolls, among others.
Gone in 60 Minutes
LPM Restaurant & Bar Present Express Lunch Menu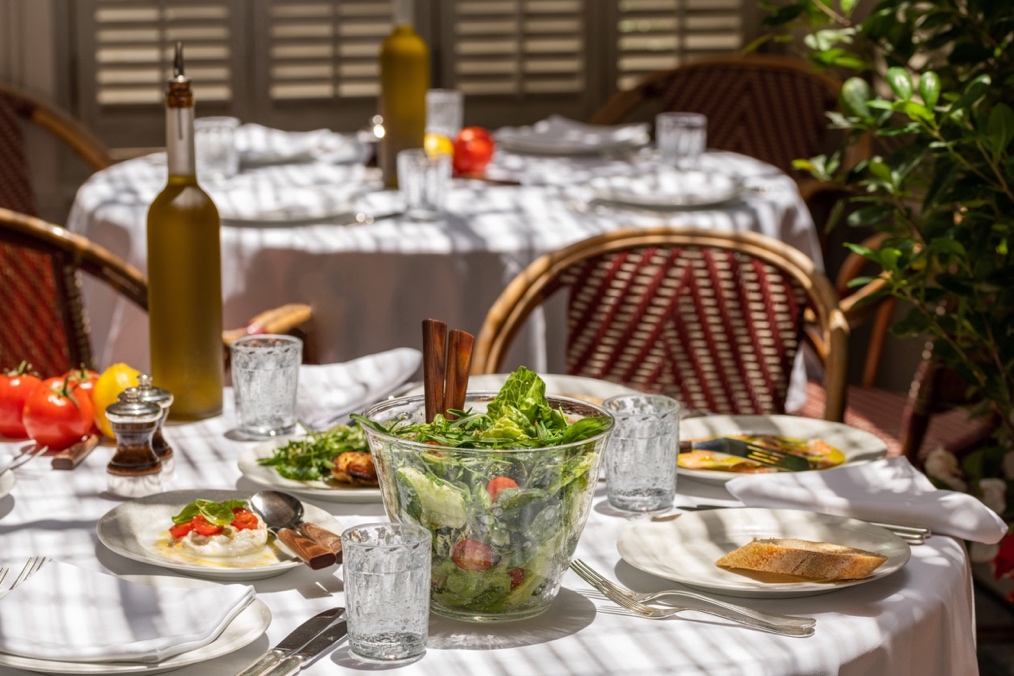 Award-winning LPM Restaurant & Bar has launched an express lunch menu for its local workers in Dubai and Al Maryah Island in Abu Dhabi. The new The Little Menu is a two-course menu designed to be served to guests within 60 minutes and is available at AED 135pp.
Guests can enjoy a selection of starters and salad of the day, followed by a choice of main course. The new menu showcases dishes from the a la carte menu, created by Chef Patron Raphael Duntoye and features a host of signatures such as Tuna Tartar with harissa mayonnaise, Quinoa Salad with grapes and goji berries, Roast Baby Chicken marinated in lemon and Sea Bream Fillet with mustard, baby spinach, butter beans and cherry tomatoes.
Those with more time should take inspiration from the French and indulge in a leisurely lunch. The popular Business lunch menu includes salad of the day and two starters each, one main course each, ice-cream of the day and is available at AED 180pp.
LPM Restaurant & Bar is known globally for its light, fresh and vibrant French Mediterranean menu – its buzzing atmosphere and stunning interiors that showcases curated art displays. It is the perfect place to take someone for a schmooze, an intimate lunch date or to satisfy a craving for the iconic LPM burrata on a lunch break.
Both the Le Petit Menu (AED 135pp) and Business Lunch (AED 180pp) are available from Monday –Friday, 12 – 3pm, dine in only at LPM Dubai and LPM Abu Dhabi.
Change your habit and Taste a New One
with Roobaru's Business Lunch in Burj Khalifa Blvd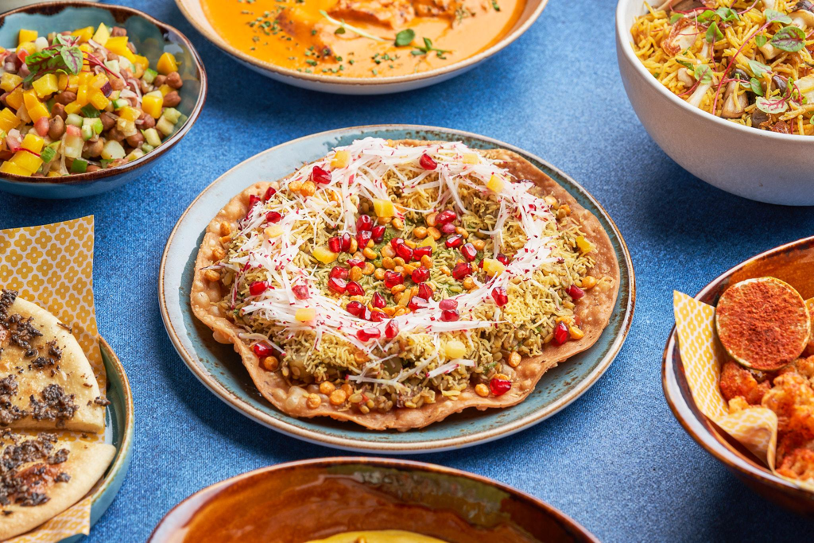 Take a break from the office and treat your taste buds to the one of a kind Roobaru, located on Burj Khalifa boulevard. With a kitchen run by the youth of today, Chef Gaurav Yadav brings a fresh perspective of Indian cuisine to the hard workers of Downtown Dubai. Their modern techniques and blend of flavours, give diners that element of surprise as they indulge in some Indian delights like the Sharjah Sambusa – a cheddar cheese & onion samosa, with sweet yogurt, date & tamarind chutney, topped with Chips Oman.
From 12 pm to 3 pm choose from a delicious two-course meal for AED 69 or fill the tummy with a three-course feast for just AED 79. Although the thought of a spicy-sweet Butter Chicken is what got you out of the office, don't miss out on the Keema Roti – lamb keema parcels stone-baked, served with herb chutney and kachumbari or the Aslam's Chicken – old Delhi style chicken tikka in a buttery kebab dressing served on Chota naan. Lastly, it would be rude not to end with a sweet touch of their signature soft-serve dessert, the Gulab Jamun and Ice Cream.
The venue also doubles up as a chai room, perfect for topping off the experience with a soothing cup of tea before heading back to the office. So, let's fuel up for the next half of the day with an affordable business lunch at Roobaru.
Roberto's presents guests with a Lunchtime delight
Italian favorite offers a new Business Lunch menu every Monday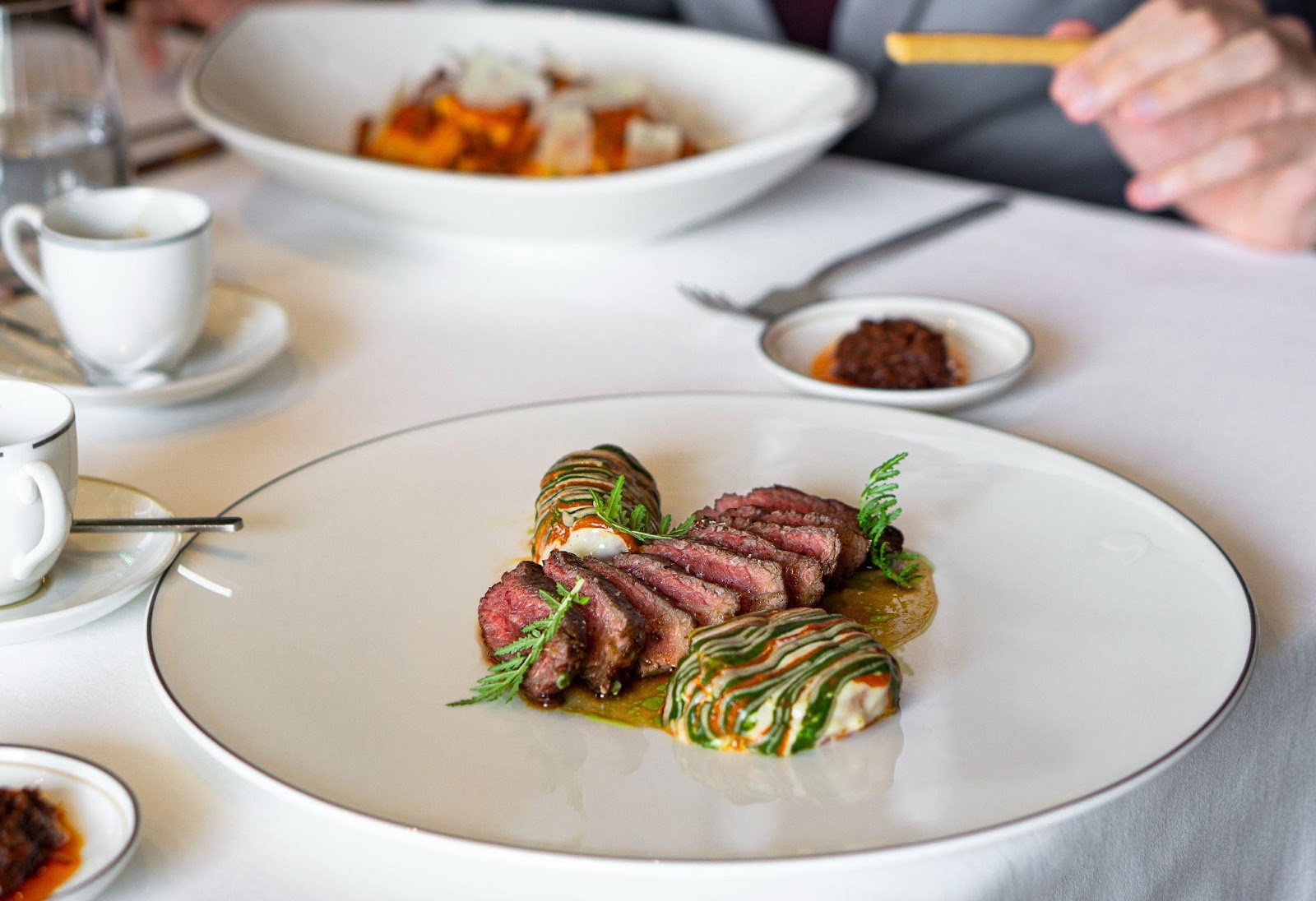 Homegrown modern Italian restaurant Roberto's has fashioned a delicate and delectable business menu set to elevate weekly dining in DIFC. Being the only venue in the bustling financial district to replenish its lunch menu every week with fresh and locally sourced ingredients, Head Chef Danilo Valla truly knows how to cater to and enchant his guests' taste buds. The diverse menu suits all tastes and is available exclusively at Roberto's elegant dining room Piemonte and the main lounge on weekdays from 12 pm to 3 pm.
The specially curated and distinct menu is priced at Dhs 125 per person, where guests can opt for a three-course, or a two-course spread served with coffee or tea. Lunch-goers may select from a wide variety of dishes such as the hot Zucchini and basil soup to a traditional Homemade Cannelloni Pasta. Roberto's adds new dishes and favorites each week.
The award-winning restaurant, and long-time favorite since its launch in 2012, is known for its palate-enlightening cuisine, polished service, and talented chefs. Roberto's calls out to all Italian aficionados to dine in style for their next weekly lunch.
Experience The Artisan's business lunch at the luxurious Waldorf Astoria DIFC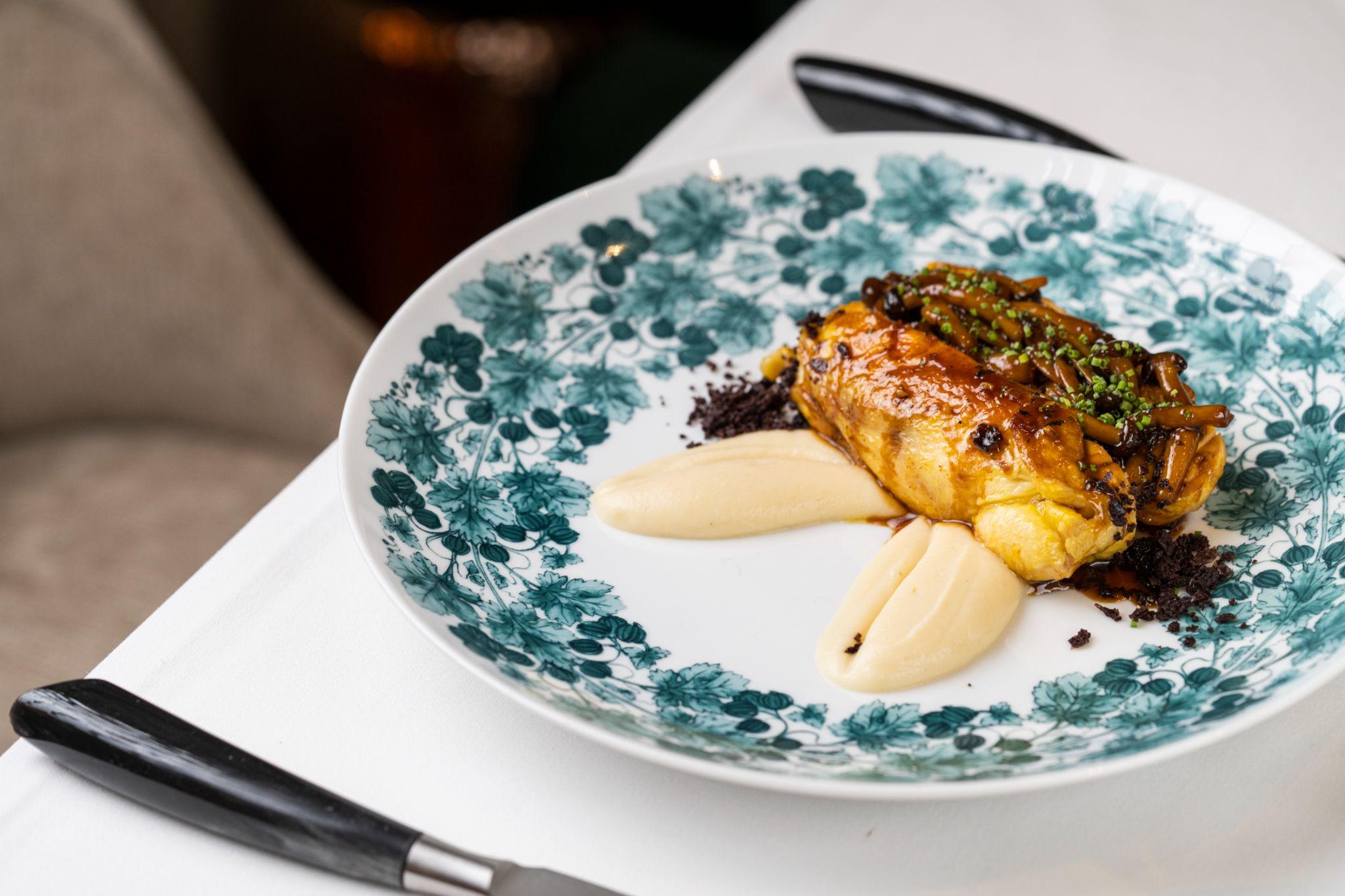 Located in the heart of DIFC in the opulent Waldorf Astoria, The Artisan offers an escape from the modern metropolis of Dubai. An impressive business lunch offering a three-course menu that will be sure to satisfy the contemporary cosmopolitan palette.
Starting with the delicious Zuppa di Lenticchie di Castelluccio or the classic Bruschetta al Pomodoro, to then delight in a splendid main course selection of Spaghettini with Pomodoro and Burrata, or the corn fed chicken breast, Filetto di Pollo ai Funghi. Guests are sure to be exposed to skillfully curated dishes that tell a story with every mouthful. To finish, refresh the palate with The Artisan's sweet homemade cheesecake Torta al Formaggio Fresco with blueberries and ginger compote.
For those looking for a quality experience and possess a love for authentic Italian cuisine, The Artisan will become the local 'Italian Eatery' in DIFC. Guests will enter this charming restaurant with walls adorned with remarkable works of art and warm interiors, greeted by a team ready to cater to their every need.
Delight in The Artisan's three-course business lunch meal for AED 120.